Novelty in the sewing business — overlock, rug and stitching machine with auto-tension of the upper thread.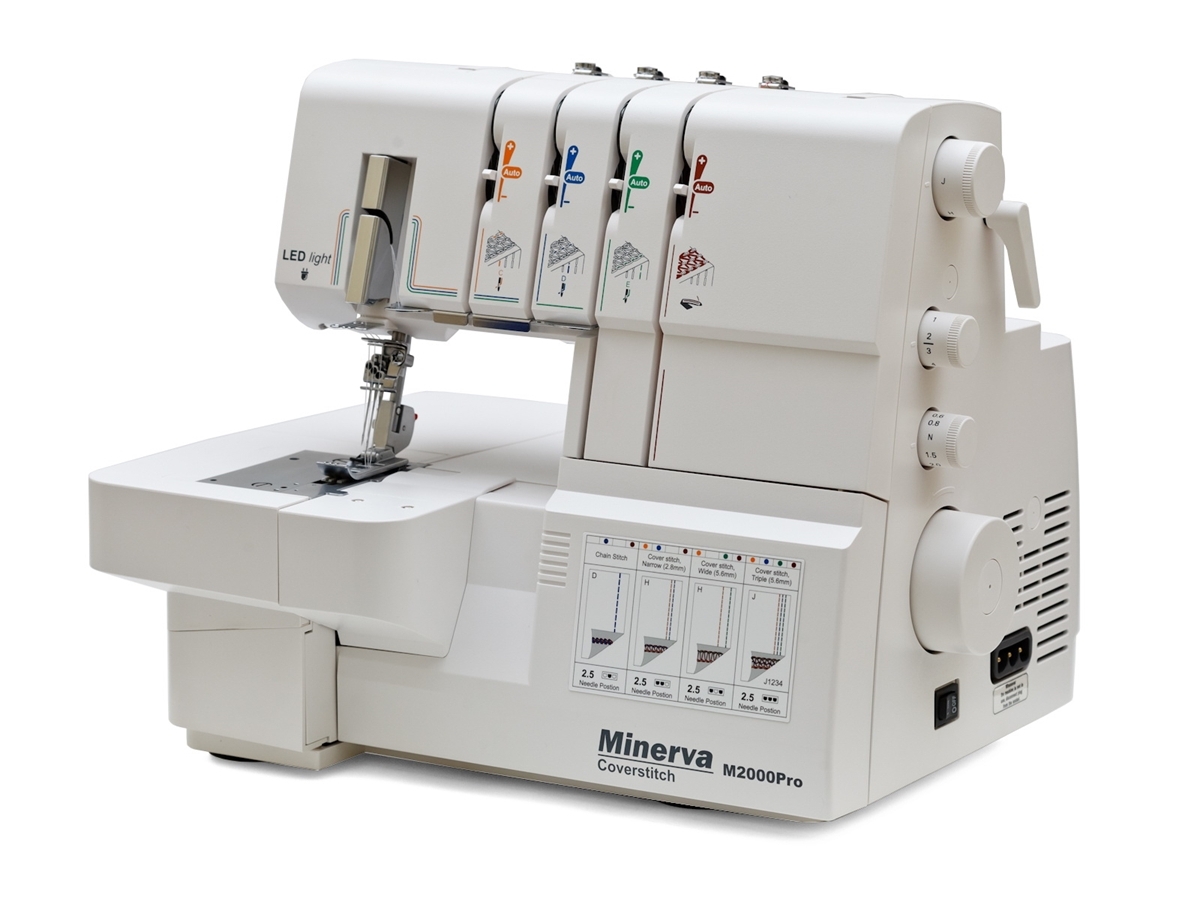 The novelty of 2017 in the garment world is the five-thread overlock Minerva M5000Pro. He not only handles things, but also is equipped with the qualities of a typewriter. A special feature of the model is the automatic thread tensioner, thanks to which it is simple and easy to work with an overlock.
With any fabric it is convenient to work, because the differential feed of fabric allows it to adapt to the sewing process. LED-light bulb, which illuminates the working surface, for a long time does not require replacement. And while this facilitates the sewing process. If you need to work with small parts and hard-to-reach places, you can use a free sleeve. It is possible to impose 23 kinds of lines — two-stranded and three-threaded obmetochnye, overlock, flat, draw edges with a secret stitch, edging products.
In comparison with previous overlocks, this model significantly extends the working surface — 10 centimeters from the bed to the needle.
Minerva M2000Pro
Interesting and practical needle machine Minerva M2000Pro already appeared on sale. With it, it is easy to handle the edges of knitwear. A special feature is the automatic thread tensioner. The model performs four types of stitching lines — narrow flat, two-threaded chain, triangular flat and wide flat. And if you have a sleeve platform, you can easily work with narrow parts of products. If in the previous models the distance from the bed to the needle was six centimeters, but now it was increased by four more.
All the details of which the machine is assembled are of high quality and have been tested by all standards and norms. Therefore, it can be used to operate on an industrial scale. Masters of sewing business will appreciate the novelty of 2017 and will happily work with it.
Minerva M2050Pro
Attention deserves a four-thread overlock of the Taiwan-made Minerva M2050Pro with an auto thread tensioner. Its main purpose is to process the edges of the products with the preliminary trimming of the fabric. You yourself regulate how wide a trim should be. If you need another function, then the knife can be turned off. With the help of a sleeve platform it is easy to handle the edges of circular products — sleeves, trousers. Since the overlock has a differential feed of the fabric, it is in the hands of the master to stretch and assemble, simplifying the sewing process. Therefore even beginners can work and smooth sliding fabrics, which become obedient.
The work surface of the overlock is much larger, which is a good indicator for high-quality and fast work. In this case, the surface is illuminated, and the eyes of the master will be much less tired during work.